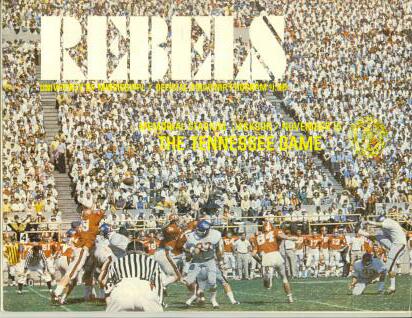 Ole Miss     38

Tennessee   0

Jackson, Miss.

November 15, 1969

ON THE COVER:  Cloyce Hinton's historic 59 yard Field Goal against Georgia on October 11, 1969, established a national record at the time.  The Rebels beat Georgia 25-17 that day.

THE GAME:


"Everybody says Ole Miss has got the horses.  I think they have mules."

This celebrated pre-season remark by UT linebacker Steve Kiner sparked one of the most emotional games in Ole Miss history.  The Vols came to Jackson with a 7-0 record and a #3 National ranking, their fans wearing the now infamous "Archie Who" buttons.  The Rebels were 4-3.

By the end of the first quarter the Rebels were up by three touchdowns and went on to win 38-0 in what was later called the "Jackson Massacre".